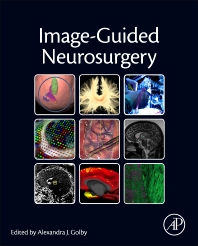 Image-Guided Neurosurgery
Editor: Alexandra Golby, MD
Published on May 5, 2015. 1st Edition
Throughout its history, the field of neurosurgery has been revolutionized by improvements in imaging and visualization. From the development of the pneumoencephalogram, to the operating microscope, to cross sectional imaging with CT and later MRI, to stereotaxy and neuronavigation, the ability to visualize the pathology and surrounding neural structures has been the driving factor leading surgical innovation and improved outcomes. The last decade has seen perhaps the greatest impact of imaging in neurosurgery. Several examples include the ubiquitous use of neuronavigation in cranial surgery, the increasing adoption of intra-operative MRI, and the development of numerous devices designed to harness these advances for better patient care. Image-Guided Neurosurgery is a comprehensive reference on the application of contemporary imaging technologies used in neurosurgery. Specific techniques will be discussed for brain biopsies, brain tumor resection, deep brain stimulation, and more. Image-Guided Neurosurgery is written for neurosurgeons, interventional radiologists, neurologists, psychiatrists, and radiologists, as well as technical experts in imaging, image analysis, computer science, and biomedical engineering.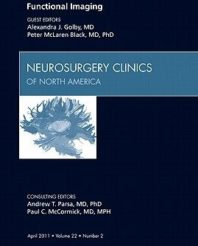 Functional Imagery an Issue of Neurosurgery Clinics
Functional Imaging,  Neurosurgery Clinics of North America
Editor: Alexandra Golby, MD and Peter M. Black, MD
Published on June 8, 2011. 
This issue of "Neurosurgery Clinics" will focus on Functional Imaging. Guest Editors Alexandra Golby and Peter Black will divide the issue into three parts: Technique, Neurological Functions and Clinical Applications, and Special Neurosurgical Situations.
2021
Intraoperative Imaging for High-Grade Glioma Surgery. Neurosurg Clin N Am. 2021 Jan;32(1):47-54.
2020
2019
2018
Using the Variogram for Vector Outlier Screening: Application to Feature-Based Image Registration.

Int J Comput Assist Radiol Surg. 2018 Dec;13(12):1871-80.

Non-rigid Registration of 3D Ultrasound for Neurosurgery using Automatic Feature Detection and Matching. Int J Comput Assist Radiol Surg. 2018 Oct;13(10):1525-38.
Free water modeling of peritumoral edema using multi-fiber tractography: Application to tracking the arcuate fasciculus for neurosurgical planning. PLoS One. 2018 May 10;13(5):e0197056.
3D printing and intraoperative neuronavigation tailoring for skull base reconstruction after extended endoscopic endonasal surgery: proof of concept. J Neurosurg. 2018 Mar 2;130(1):248-55.
Image Registration to Compensate for EPI Distortion in Patients with Brain Tumors: An Evaluation of Tract-Specific Effects. J Neuroimaging. 2018 Mar;28(2):173-82.
2017
Challenges and Techniques for Presurgical Brain Mapping with Functional MRI.

Neuroimage Clin. 2017 Dec 6;17:794-803.

SlicerDMRI: Open Source Diffusion MRI Software for Brain Cancer Research. Cancer Res. 2017 Nov 1;77(21):e101-e103.
Retrospective Study Comparing Model-Based Deformation Correction to Intraoperative Magnetic Resonance Imaging for Image-Guided Neurosurgery. J Med Imaging (Bellingham). 2017 Jul;4(3):035003.
Performance of Unscented Kalman Filter Tractography in Edema: Analysis of the Two-tensor Model. Neuroimage Clin. 2017 Jun 26;15:819-31.
White Matter Tractography for Neurosurgical Planning: A Topography-based Review of the Current State of the Art. Neuroimage Clin. 2017 Jun 15;15:659-72.
Automated White Matter Fiber Tract Identification in Patients with Brain Tumors. Neuroimage Clin. 2017 Mar;13:138-53.
Applications of Ultrasound in the Resection of Brain Tumors. J Neuroimaging. 2017 Jan;27(1):5-15.
2016
2015
2014
2013
2012
2011
2010
F

unctional Geometry Alignment and Localization of Brain Areas.

Adv Neural Inf Process Syst. 2010 Dec;1:1225-33.

Current Dipole Orientation and Distribution of Epileptiform Activity Correlates with Cortical Thinning in Left Mesiotemporal Epilepsy. Neuroimage. 2010 Oct 1;52(4):1238-42.
The Fiber Laterality Histogram: A New Way to Measure White Matter Asymmetry. Med Image Comput Comput Assist Interv. 2010 Oct;13(Pt 2):225-32.
A Combined fMRI and DTI Examination of Functional Language Lateralization and Arcuate Fasciculus Structure: Effects of Degree versus Direction of Hand Preference. Brain Cogn. 2010 Jul;73(2):85-92.
Contributions to Singing Ability by the Posterior Portion of the Superior Temporal Gyrus of the On-language-dominant Hemisphere: First Evidence from Subdural Cortical Stimulation, Wada Testing, and fMRI. Cortex. 2010 Mar;46(3):343-53.
Morphological Characteristics of Brain Tumors Causing Seizures. Arch Neurol. 2010 Mar;67(3):336-42.
2009
2008
Group Independent Component Analysis of Language fMRI from Word Generation Tasks. Neuroimage. 2008 Sep 1;42(3):1214-25.
Fieldmap-Free Retrospective Registration and Distortion Correction for EPI-Based Functional Imaging. Int Conf Med Image Comput Comput Assist Interv. 2008;11(Pt 2):271-9.

A Surgical Planning Method for Functional MRI Assessment of Language Dominance: Influences from Threshold, Region-of-Interest, and Stimulus Mode. Brain Imaging and Behavior. 2008 Apr;2(2):59-73.

Compensation of Geometric Distortion Effects on Intraoperative Magnetic Resonance Imaging for Enhanced Visualization in Image-guided Neurosurgery. Neurosurgery. 2008 Mar;62(3 Suppl 1):209-15; discussion 215-6.

Images of Restricted Water in Brain with Applications to Neurosurgery. Abstract, Intl Soc Mag Reson Med 2008.

Quantification of White Matter Fiber Orientation at Tumor Margins with Diffusion Tensor Invariant Gradients. Proc Intl Soc Mag Reson Med 2008.

Identification of essential language areas by combination of fMRI from different tasks using probabilistic independent component analysis. Proceedings of the 2nd International Conference on Bioinformatics and Biomedical Engineering, iCBBE2008.

Clinical Functional Magnetic Resonance Imaging and Diffusion Tensor Imaging for Surgical Planning. Tutorial at the First annual NIH-sponsored Image-Guided Interventions Workshop 2008 March.
2007
Distortion Reduction in EPI Based on Minimal FOV. Abstract #3721, Intl Soc Mag Reson Med 2007.

Tract-Based Morphometry. Int Conf Med Image Comput Comput Assist Interv. 2007;10(Pt 2):161-168.
Object Naming is a more Sensitive Measure of Speech Localization than Number Counting: Converging Evidence from Direct Cortical Stimulation and fMRI. Neuroimage, 37(1, Suppl 1), 100-8, 2007.
Quantitative Comparison of Functional MRI and Direct Electrocortical Stimulation for Functional Mapping. J Med Robot. 2007 Sep;3(3):262-70.
Rater-dependent Accuracy in Predicting the Spatial Location of Functional Centers on Anatomical MR Images. Clin Neurol Neurosurg. 2007 Apr;109(3):225-35.
Non-rigid Alignment of Pre-operative MRI, fMRI, and DT-MRI with Intra-operative MRI for Enhanced Visualization and Navigation in Image-guided Neurosurgery. Neuroimage. 2007 Apr 1;35(2):609-24.
Functional Brain Mapping and Its Applications to Neurosurgery. Neurosurgery. 2007; 60(4, Suppl 2), 185-201.
2006
Image-guided Neurosurgery at Brigham and Women's Hospital. IEEE Eng Med Biol Mag. 2006 Sep-Oct;25(5):67-73.
Diffusion Tensor and Functional MRI Fusion with Anatomical MRI for Image-guided Neurosurgery. Int Conf Med Image Comput Comput Assist Interv. 2006;6(Pt 1):407-415.
Functional MRI of Memory in the Hippocampus: Laterality Indices may be more Meaningful if Calculated from whole Voxel Distributions. Neuroimage. 2006 Aug 15;32(2):592-602.
The Brain Basis for Memory: Insights from fMRI, Intracranial EEG, and Epilepsy Patients. Epilepsy Behav. 2006 Feb;8(1):115-26.
Integrated Image and function-guided Surgery in Eloquent Cortex: A Technique Report. The Int J Med Robotics Comput Assist Surg, 2(1), 75-83, 2006.
Integration of Patient Specific Modeling and Advanced Image Processing Techniques for Image Guided Neurosurgery. SPIE Medical Imaging 2006.

Toward Real-Time Image Guided Neurosurgery Using Distributed and Grid Computing. Proceedings of the ACM/IEEE conference on Supercomputing; 2006; 37-50.
2005
1989-2004